The Brand X Method Preschool Workout
From The Founders Of CrossFit Kids
Skill:
Pick Me! Children raise one hand and reach up as high as possible, then switch to work on active shoulders.
Workout:
Don't Touch the Ground – Set up a variety of obstacles in a large circle to be climbed/swung over, through, or under without touching the ground. After someone touches the ground, everyone comes into the middle and performs 3-5 reps of a movement, eg, squats, mountain climbers, burpees, etc.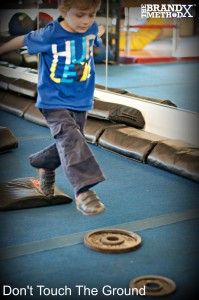 Game:
Finding Nemo – Equipment and other objects are strewn around the room. While the kids cover their eyes, the trainer hides a plastic toy fish (Nemo) somewhere within the equipment. On "Go," the children try to find Nemo. For subsequent rounds, kids do 3 squats to get the chance to find Nemo (except the child who just found the fish). For added fun, additional fish can be hidden. Additional fish can be hidden.