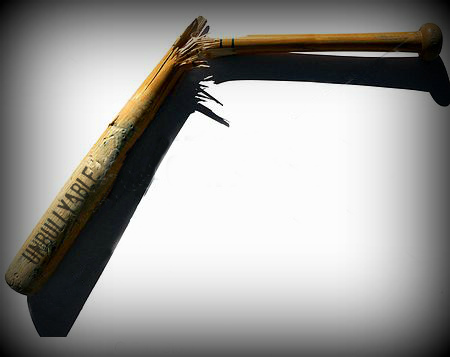 Unbullyable™ – The Toys of Summer, Part 1
Remember about a year ago, I served up this ceaseless rant about youth baseball? Somewhere in that delightful gambol I left a titillating Game of Thrones-caliber cliffhanger about what I would decide for the Squid should the rec league come calling about the 2016 end-of-year all-star tournament.
PONY Baseball rules allow age-eligible high school players to return for 14U all-stars. The logic is that because these kids were unable to play in rec league owing to their participation on the high school team, they should be allowed to represent their local league as all-stars (it's taken for granted that all high school players perform at an all-star level regardless of their high school performance). Last year, these kids were asked to shell out $1 (+ uniform costs, maybe tournament fees) to buy a spot on the 14U team without playing a single rec league game. I thought it was bullshit for obvious reasons, symptomatic of the youth sports malaise, and told my kid that, if he made the high school team the following year, there was no way I would allow him to be a part of an unearned and so very ephemeral "glory grab." He seemed to understand my position.
I received a voicemail a couple weeks ago asking if the Squid was interested in joining the 14U team. Minutes later I received a text with the same query. I texted the coach back and said thanks, but we're going to pass. Left it at that. Got a follow-up text from the coach: if you change your mind, it's only $5 (inflation I suppose) yada yada yada. So I explained why the Squid wouldn't be participating, but thanks again for thinking of him. Soon after I tapped "send" I received a second voicemail. And in case you're sensing a pattern, you are correct, I'm not a fan of talking on the phone—not sure why other than I'm uptight and weird. However, my wife made me call the coach back (because she's mostly normal, except for that part where she married me).
So the coach and I chatted. Let me be clear: he's a good guy. Always been friendly to me (which can be trying, I hear). Always been a strong supporter of the Squid. He's volunteered his time to coach baseball, basketball, and soccer for as long as his son's been playing sports. And here was his case for why I should reconsider:
All of the other eligible high school players as well as others from the Squid's 2015 all-star team are returning.
The Squid has a chance to represent Ramona PONY Baseball in his last year of eligibility.
The fun experience would create a fond memory for the Squid.
Sometimes parents have an obligation to decide what is best for their kids.
The $200+ league registration fee doesn't guarantee selection to the all-star team.
The 13-14 division doesn't have enough bona fide 14-year-old all-stars, that is, kids with all-star experience, to field a competitive team.
When I asked why the league didn't put together a combined 13-14 team, he said the 13-year-olds weren't good enough to compete against 14-year-olds. A week later, I received yet another text from the coach giving me one last chance before the roster was finalized. I politely declined.
I know the coach is well-intentioned. Does he make a point? Am I shutting the door on a cherished memory for my son? Am I denying him a chance to step up and represent? To have fun? Isn't that the youth sports brass ring? Fun? Am I off base on this? Am I making a principled stand on a sanctimonious pile of meritless bullshit?
I guess I don't think so, and next time, I'll see if I can sift through my pile and tease out some merit.