Unbullyable™ – Returning to #TheGoldStandard: The Brand X Method™ and USA Powerlifting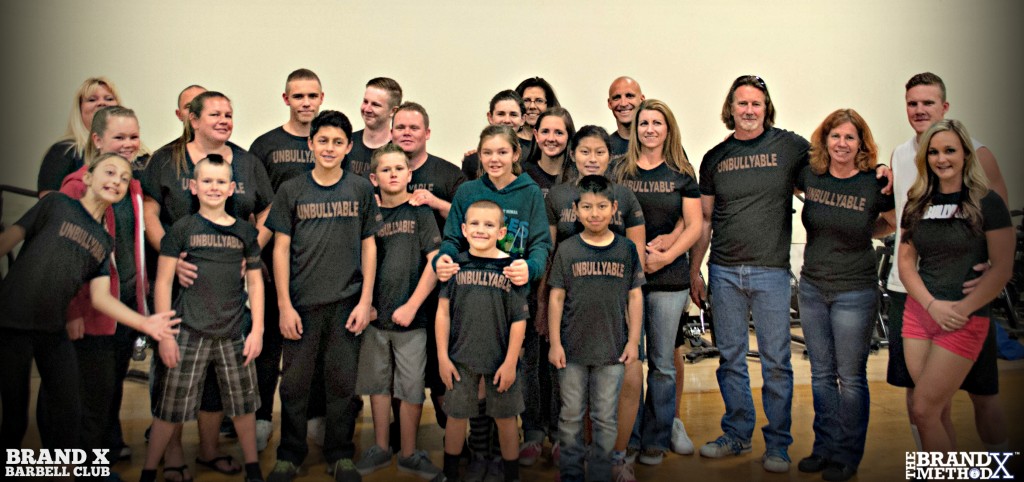 So a couple of weekends ago, nine of our kids ventured to Cal State Fullerton to participate in the USAPL California State Championship. Their ages ranged from 13 to 21. Eight of them were teens. I'll keep it simple:
Not bad for a little gym in a little town out east of San Diego.
Before I talk about how hard these kids worked for their achievements and before I lapse into what will undoubtedly be condemned (unduly I might add) as some kind glossolalian spew of "big words," in this case on the topic of competition, I need to veer onto a tangent.
Hometown Dismay
I'm a little jaded toward CrossFit these days, but there's no denying its positive impact on (among other sports and physical activities) weightlifting and powerlifting as evidenced by the presence of several CrossFit affiliates at the USAPL meet. None of them have been around as long as Brand X, but at least a few CrossFitters recognized Jeff Martin and approached him to show their support.*
Brand X has been operating in Ramona since 1999. In 2003, Brand X became only the fifth CrossFit affiliate on the planet. In 2004, CrossFit's founder Greg Glassman personally asked Jeff and Mikki Martin to start a kids program (CrossFit Kids) for CrossFit, which they did and which, just over 10 years later, they were forced to disassociate from after being fired and then sued by the Inc. So 16 years in business, going on 12 years as a CrossFit affiliate, and going on 11 years intensively developing a method for training kids that is now in use in hundreds and hundreds of programs worldwide. In all of that time the goal has been to do what's best for kids (and, obviously, for all of the clients).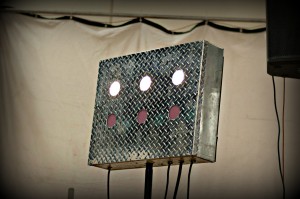 Jeff's brief interactions with these CrossFitters (none of whom he knew) reminded me that Brand X is way better known around the world than it is in its hometown. And not just known, but respected for the work the Martins have done.
For all the talk about fixing the problems in youth sports, very little concrete action has been taken. The whys** of this are many, but simply put, the way forward is difficult. I believe the Brand X Method™ provides the framework.
"Of course you believe that," you say. "You're supposed to say shit like that. That's the whole reason for your inane dime-a-dozen blog." Then you pause. "Well, part of the reason," you say. "Mostly you want to write 'fuck' and show off your turgidly self-conscious vocabulary chops like some sophomoric little prick. And those links. Those stupid links that no one clicks on."
I appreciate your position, I do, but I disagree. I've been on the coaching staff since 2010 and have spent that time trying to be the best trainer possible. I've been paying close attention, and I've seen how the Brand X Method™ works. If you're Brand X member, you've likely seen it too. But outside the cobwebbed walls of our classic "box," few in Ramona get it.
Part of it has to do with the fact that the local newspaper would prefer to shine its light on its loyal advertisers then pursue newsworthy stories. Gotta pay to play. And those that do pay can shape community perceptions (Marketing 101).
Part of it is the win-now mentality of the youth sports culture, which is an expression of the broader ethos of "nothing succeeds like excess." The Brand X Method™ is not about superstardom, not about creating elites, not about feeding those parental egos that jones for the accomplishments of their children. I've done a lot of looking into this for the last five years, and what the Martins have developed cannot be called a long-term athletic development model. But it does take a long time. The patience, discipline, and meticulous attention to detail that are marks of the Brand X Method™ don't jibe with the win-now culture that is cannibalizing US athletics. For some, if it's not immediately clear that their kids are exceling past other kids, if the results aren't immediate, parents don't see the value. They get panicky that their kids are losing ground to other kids who appear to be training in more fruitful (ie, sport-specific) ways. Or they start pushing their kids to perform better when they're nowhere near ready to increase intensity; in other words, they try to bring the win-now culture into our gym, which simply doesn't work. This thinking undoes all of the effort out there to educate parents on the problems of early specialization and year-round competition. That message has become the thinnest of memes, a brittle social media communion wafer that sits on the tongue of your conscience with just enough of a hint of sweet conviction and savory outrage to rile you up until you're distracted by the titillating Upworthy headline sliding down your newsfeed.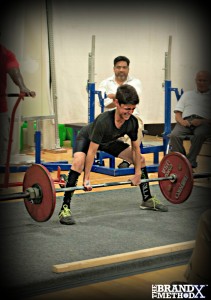 Part of it is the direct action of a leading figure in Ramona's youth athletics who, for personal reasons, has allegedly told athletes that they'll be booted off their team should they train at our gym. We've reached out on a few occasions to seek what we thought could be a collaborative effort to benefit the kids, and once even offered to train this person's athletes for free, but we were not taken up on it despite a track record of producing some of the strongest kids in Ramona (as per by this authority's own measures).
These three circumstances have conspired to keep Brand X off Ramona's map despite the fact that people from New Zealand to New York swear by the Brand X Method™. To some extent it's an expression of the immensely complicated issue we're trying to address. But a lot of it boils down to petty politics and ego. For all of the gym options in Ramona—and for a small(ish) town there are a lot—none of them come close to the experience that Brand X has for training children and teens. It's a travesty. The situation is not what's best for Ramona's young athletes and one that Brand X would like to change moving forward.
Brand X Barbell Club in da House
I'm not going far enough when I say that the Brand X Method™ works. I think I get closer when I say that the Brand X Method™ is the walk to back the talk we're all hearing about with regard to the state of youth sports.
The 2015 USAPL California State Championship offers a good example of why I think this. I've talked ad nauseam about how competition should be a safe testing space for kids to assess progress and take performance chances. Other than a couple of the older boys who had participated in powerlifting events in the past, the meet was a brand new competitive context for the kids. This was not the Gauntlet, and they were nervous. So how did we take the kids outside their comfort zone and still abide by our guidelines for competition?
(1) The USAPL has welcomed us every time we've participated in one of their events. We expected and received no less this time, and the meet officials and other lifters were all encouraging to our crew of kids, making for a friendly environment.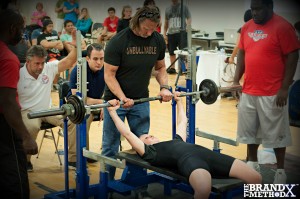 (2) Brand X was well represented in the audience, adding to the positive environment.
(3) Jeff set up the kids for success by ensuring that every first lift was a slam dunk. With the exception of a single nervous technical foul, everyone crushed their first attempts.
(4) The kids were well prepared. Not only did they attend weight lifting class consistently, they also went through a couple of mock meets to learn the commands. Yes, the setting was new, but the gameplay was not.
(5) We didn't discuss the meet in terms of record setting or national qualifying. We talked about doing something fun that they also happen to do well.
As a whole, the Brand X Barbell Club lifted with technical excellence, and what might have started out as fairly typical adult encouragement from the officials and participants soon grew to admiration as lift after lift was met with three white lights. Our kids missed a handful of PR attempts, but not a single attempt could be characterized as appreciably flawed. It was wonderful to watch.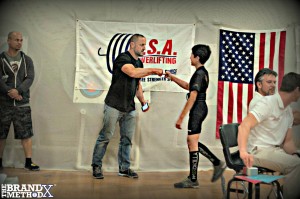 The Brand X Barbell Club (Squat/Bench/Deadlift/Total):

Edelman, EJ (age 13) – 132.5 (pr)/72/171 (pr)/375.5
Marks, Jack (age 16) – 330 (pr)/204/363 (pr)/897
Martin, Duncan (age 16) – 336 (pr)/204/363 (pr)/903
Martin, Keegan (age 21) – 435/242/501/1178
Martinez, Casey (age 14) – 176 (pr)/60.5/187.5 (pr)/424
Mittman, Sara (age 13) – 130 (pr)/60.5/176 (pr)/366.5
Parkes, Marissa (age 14) – Named Best Female Teen Lifter – 176 (pr)/95.5/159 (pr)/430.5
Parkes, Tessa (age 13) – Named Best Female Youth Lifter – 137 (pr)/88/171 (pr)/396
Vazquez, Grady (age 17) – 380 (pr)/303/419 (pr)/1102
Understand this: the kids, figuratively and literally, did all of the heavy lifting. They did the work. As I said they trained consistently. For months and months. Incrementally increasing their strength and muscular endurance, refining their mechanics, and learning the value of accessory and mobility work. They then competed in front of a lot of strangers in an unfamiliar setting (in singlets). They lifted with utmost poise and, most importantly, they all had a blast.
Although the lion's share of the credit certainly goes to our young athletes, I firmly believe that the Martins have created a training environment where the kids are able to excel. The numbers do not tell the whole story. Why am I convinced that the Brand X Method™ offers an actionable framework for curing some of youth sports' ills?
Four teenage girls participated at an age period when many girls drop out of sports and begin to drift away from physical activity altogether. Their only sporting activity is at Brand X.
In line with this, one young lady, relatively new to our lifting program, drove up with her mother to support her friends and check out the action. She wants to lift in the next meet we attend. She has been with Brand X a long time, but never as fully committed as she is now. Something kept her coming back over the years.
Jack Marks holds state records for squat, bench, deadlift, and total as a 15-year-old. He returned this year as a 16-year-old and broke the bench and total records for his weight class. He also tied the squat and deadlift records, which have stood for five years. Those records belong to Keegan Martin, who participated this time as a Junior and is one of Jack's coaches.
If the implications of these points aren't apparent to you, let's have a discussion about it—it's exceedingly complex and gets at various realms of development, coaching, and sports psychology. If you get it and are excited about it, we want to hear from you too. If you want your program to become an environment where kids can develop the intrinsic motivation, derive satisfaction, and achieve athletic success outside the mainstream sports experience that then can be plowed back into the mainstream sports experience (and beyond), contact us at [email protected]. We have information on how you can join #TheGoldStandard and become a Brand X Method™ Training Center.
With even just a few likeminded coaches around the world, the Brand X Method™ can begin contributing to the thus far stuttering movement to improve youth sports and the physical, cognitive, and emotional well-being of kids everywhere. It's time to stop talking and time to start disrupting shit.
* Some of this support might qualify as approaching the level of public outpouring. The Martins are well-known in the CrossFit community and, as gooey as this sounds, beloved in some quarters. Many have rallied to their side. However, throughout this entire ordeal there've been many others who have privately expressed support but fear financial-related fallout should they be seen as publicly speaking out against CrossFit Inc., so they have remained silent. Doesn't seem so countercultural anymore…. In fact, it seems quite fucking typical. Seems like the once liminal CrossFit community has become one of those well-ramparted utopias that Rick Grimes would instinctively walk on by. Or at least he'd bury his .357 nearby before entering.
** I plan to give a concrete example of this soon.
Photo Credit: Danell Marks Photography