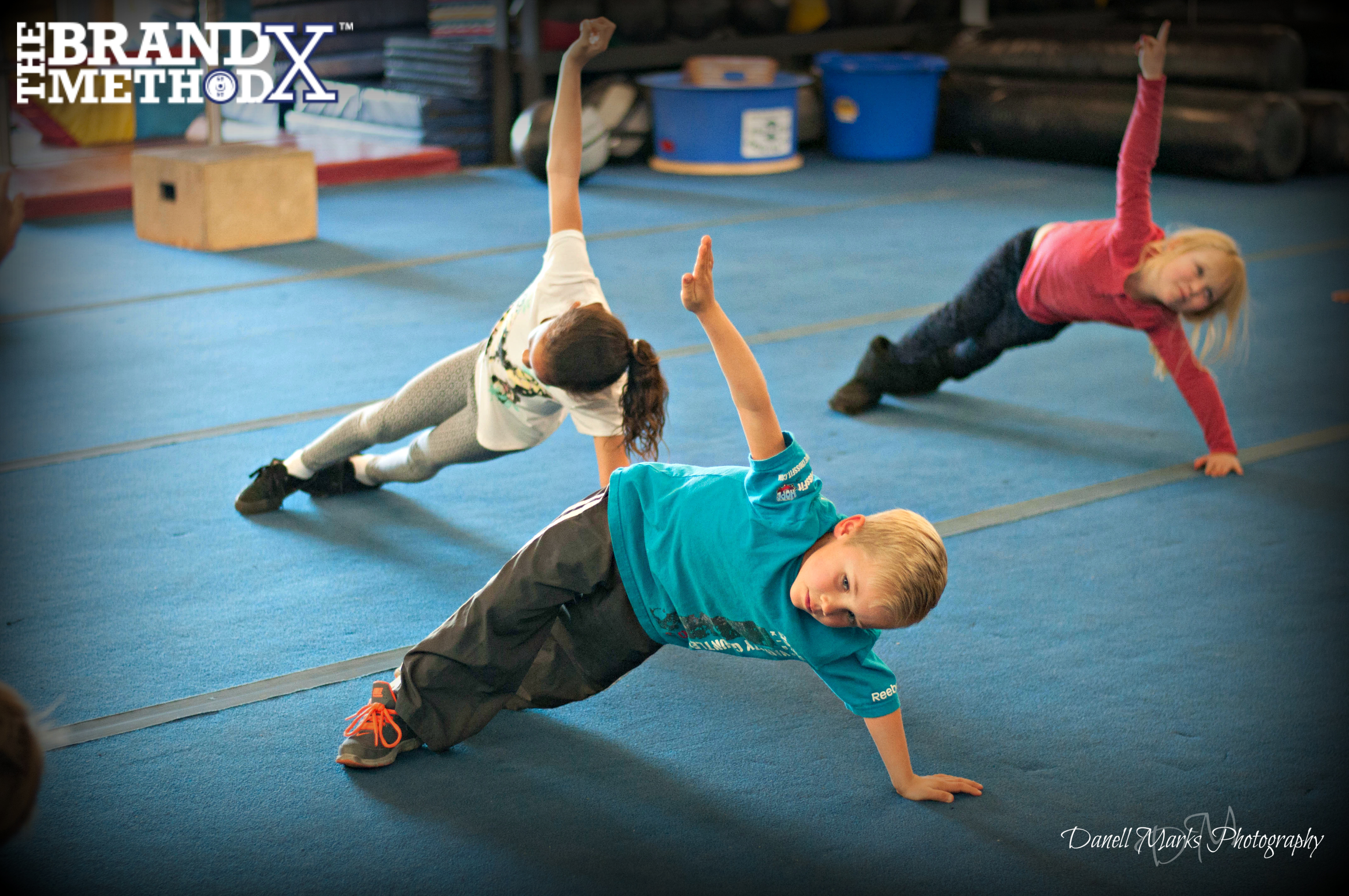 January 2020 Kids Workout #3 – Explore/Express
Full kids and teen programming is provided to
Brand X Training Centers.
Click here to learn how to become a Brand X Training Center 
PREPARE
Thruster Ball –A traditional game of catch that has kids starting about 3 meters apart. Players perform a thruster for each throw, using a dodgeball to 4# Dynamini ultra-soft medicine ball. Ball is thrown in a high arcing pattern at the top of each thruster.
GET READY
4:00
10-meter roped 25# pulls. Set up 4 or more pulls to keep kids moving. Coach should reset direction of rope as needed if opposite facing sides are used to pull. Use good middle of the squat (WIO Position 3) position with torso upright while pulling.
PRACTICE
MOVEMENT PRACTICE
Teach 5-count tempo (5 down and 5 up) and paused front squats.
Review and discuss associated Movement Skills. Ask one or two kids to coach the primary associated Movement Skills.
As a group practice 5-count paused tempo squats—5 seconds down with 2-second pause. Pause should look like hinge from Waiting in the Outfield Position 3.
PLAY
WORK-PLAY
2x
4:00
5 goblet squat with dodgeball
10 AbMat sit-ups
Accumulate 1:00 T-plank hold
1:00
Bear Crawl Tag
GAME
Unloaded roped sled pulls and pushes for time – Create a marked 10-25-meter lane to push or pull unloaded sled. Use a stopwatch to time and record a minimum of three attempts for each child. If you have a larger group divide by training age/skill and lightly load one sled.
*Plan to repeat this in three months and compare times*